Client is a 45-year-old custom-molded plastics manufacturer operating up to three shifts a day located in Eastern PA. The peaker backup plant started operation at the end of 2017. The customer was at the end of a power line, experiencing frequent and costly power outages, was paying >8.7 cents per kWh, and was actively seeking a resiliency solution that wouldn't distract management from daily operations.
The solution was to install and manage a 1.25 MW Caterpillar prime power generator that provides the Client complete resiliency. The Client pays a monthly Energy Services Fee that is more than completely refunded from a share of the merchant revenues generated by the Project and substantial reductions in demand charges. In summary, the Client obtains the resiliency it needs with outsourced professional system management while generating a net savings.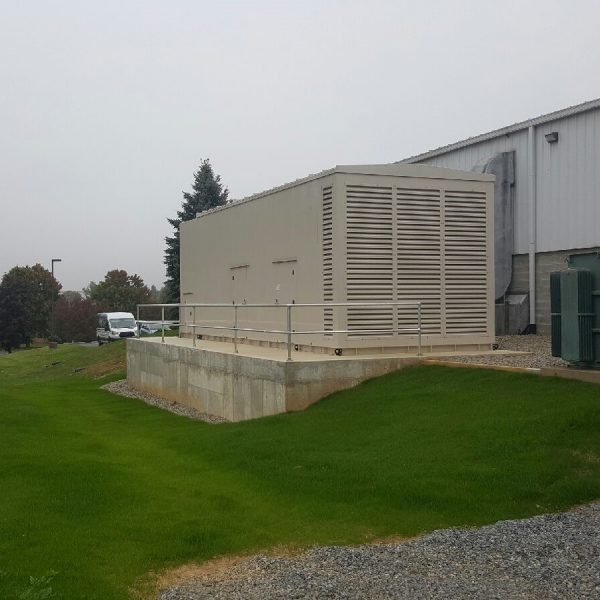 DETAILED PERFORMANCE REPORT
The Project provides multiple customer benefits:
A fixed-price Energy Services Fee under a 15-year contract with Client; and
Three sources of net merchant revenues from the regional transmission operator (PJM) for sales of:
Economic Demand Response;
Emergency Demand Response; and
Synch Reserves.
Net savings; the Client's annual energy spend is lower than it was prior to the project's installation.
The Energy Services Fee provides Client with a backup, prime-power natural gas generator to provide resiliency. Merchant revenues are shared with Client and partially defray the cost of the Energy Services Fee. To completely offset the cost of the Energy Services Fee, the generator also operates whenever the local electricity price exceeds the system's strike price (a proprietary calculation). When the generator is operating in this mode, ~90% of Client's load is removed from the grid, substantially reducing the transmission and distribution costs ("Demand Charges") charged by the local electricity provider. The savings from reduced Demand Charges combined with the shared merchant revenues exceeds the Energy Services Fee, generating a net savings to Client.
BACKGROUND
Client maintains a nearly continuous need for power at its Easton, PA production facility. Client's blended energy and Demand Charges exceed $0.087 per kWh, which is higher than the marginal cost of energy from the Project.
The project includes a 15-year supply contract to provide peak shaving and reliable back-up power. Under the contract, Client supplies all of the natural gas utilized by the Project and pays a monthly fixed-price Energy Services Fee.
SYSTEM PERFORMANCE
Customer View:
The Project was budgeted to generate an annual savings to Client of $30,758 by self-generating over 1 million kWh and purchasing the remaining 3.5 million kWh from the grid.