S&C Electric Company in collaboration with Frost and Sullivan, did a study of facility and energy managers of commercial and industrial businesses to find out their perspectives on power reliability.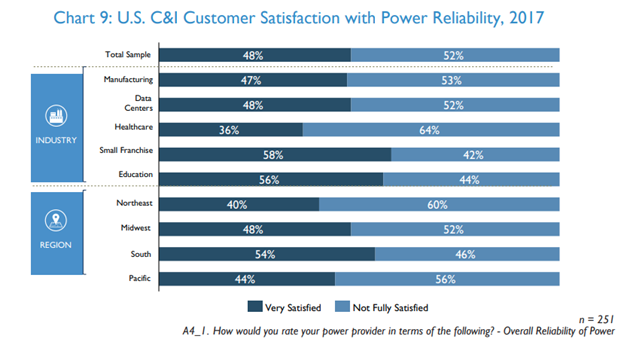 You can access the report here: https://exergyenergy.com/wp-content/uploads/2023/01/grid-satisfaction.png
It is probably no surprise that the majority of respondents are more dissatisfied than satisfied with the reliability of the grid. The impacts vary by industry and application, with 21% of manufacturers losing over $ 100,000 for a single outage incident. Some applications, such as data centers, have a downtime cost of $ 9,000 per minute. 45% of respondents complain that outages are too frequent and occur without warning, so they can't plan and mitigate costs.
The report is consistent with other reports that have shown the number of outages increasing dramatically over the past 10 years, mostly due to extreme weather as a result of climate change coupled with aging grid infrastructure. Unfortunately, forecasts predict things to continue to get worse.
If you haven't started planning and budgeting for backup power, start now!